Boasting a large 6-lane pool, our swimming facilities are open all year and available for recreational or competitive use. Our pool is 25 yards and is heated to 82 degrees year round. With a 1-meter diving board in the deep end, and a kid-friendly 3-foot area in the shallow end, our pool is a good fit for swimmers of all ages
Session 1 of Brookside's Waves Swim Camp has begun! The camp is open to members and will run from June 15th to July 2nd, Monday- Friday.
For availability please email Nick at generalmanager@brooksideclub.com.
Coming Soon!
Session 2 will be planned/scheduled in the coming weeks based on Session 1 registrations and updated State/County guidance.
Want to get a workout in while staying cool? Not a problem! Check out the wide variety of aquatics programs Brookside has to offer.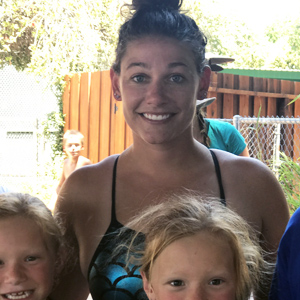 Liz Murray | Assistant Coach
Coach Liz is entering her second year with Brookside. She has been an
amazing addition to the Brookside family. Liz grew up swimming. In
Fact, she was a Wave, herself! In addition, Liz was a division one swimmer at Loyola
Marymount University specializing in Butterfly and Freestyle. At LMU she
received her Masters and Credential in Special Education and works as a
teacher when not at Brookside. On deck, Liz brings warmth and generosity to
her coaching. She also demonstrates a high level of technical excellence
which she eagerly shares with her swimmers. She is able to communicate this
expertise to swimmers of all levels. Her enthusiasm is contagious. In her free
time Liz enjoys the ocean, dogs and food.
Looking for something to inspire and connect the kids?  Join our Waves swim team, the three-time defending League Champions!!
Final score!!! Cupertino Hills 135; Greenmeadow 161; Eichler 245.5; Laurelwood 269; Saratoga Woods 321; Brookside 321.5 Congratulations to Brookside Waves!!!

— JSSL Champs (@JSSLChamps) July 15, 2018
Our team focuses on self-improvement and fun first. However, as also proven by our three recent JSSL Championships, the Waves also know how to work hard and develop high quality strokes and racing techniques.
From our awesome team rallies, to our Raging Waters Day, to our "pie-the-coaches" attendance awards each Friday, this is more than just an athletic program for swimmers; this is a fun way to spend your summer!
Things to know about joining the Brookside Waves:
All swimmers MUST be members of Brookside Club of Saratoga
The season is a 15-week program, starting the first week of April and ending mid-July
There are six age groups: 6 & Under, 7/8, 9/10, 11/12, 13/14, and 15 & Up
Swimmers must be able to swim one lap across the pool unassisted to join the team. 6 & under practice allows two weeks with coaches in the water before this standard is applied.
Want to learn more about the Waves? Check out our team website at https://brooksideclubwaves.swimtopia.com
Please login first to see this membership directory. MEMBER LOGIN